Research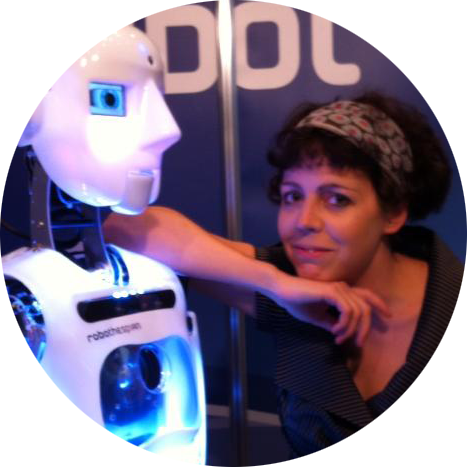 Research Interests
I seek to translate the fluidity of biological motion into mechanical and mechatronic devices. I see robotics as one of the ultimate artforms, blending the aesthetic and the functional to create something both autonomous and beautiful. In my research, I concentrate on biomimetic motion control, vision and navigation, biomechanics and soft robotics.
2015-present
Postdoctoral Fellow, Designing Emergence Laboratory, Harvard University
Reconstructing and understanding the collective construction activities of termites. Developing socially interactive robots that can be used to support construction initiatives in extreme and dangerous environments. Investigating the origins and future of social behaviours.
2012-2015
Research Coordinator, Engineered Arts Ltd
Control engineer, working on the bipedal robot project Byrun and the dexterous biomimetic grasper RoboThespian 4.0. Robot evangelist for industry and academic shows and events. Research and grant coordinator for national and European collaborative projects.
2009-2012
Post-doctoral Fellow, CITEC (Bielefeld)
Principal Investigator on project BIONA: Scene recognition and long-distance navigation using static and mobile omnidirectional and fisheye cameras. Creating flight stabilisation algorithms based on visual cues. Simulating the physical properties of the insect compound eye, particularly the polarization-sensitive DRA.
2007-2009
Research Associate, Centre for Visual Sciences, ANU
Embedded electronics and equipment construction.microcontroller programming, UI development. Modelling the visual guidance techniques used by satellite flies.
Recent Publications
Carey, N.E., Nagpal, R., Werfel, J., Fast, accurate, small-scale 3D scene capture using a low-cost depth sensor, WCCV 2017, IEEE Winter Conference on Applications of Computer Vision (in publication)
Carey, G.E., Malbon, E., Carey, N.E., Joyce, A., Crammond, B., Carey, A., Systems science and systems thinking for public health: a systematic review of the field, BMJ Open, doi:10.1136/bmjopen-2015-009002, 2015
Carey, G.E., Crammond, B., Malbon, E., Carey, N.E., Adaptive Policies for Reducing Inequalities in the Social Determinants of Health, Int J Health Policy Manag, 2015
Stuerzl, W., Carey, N.E., A Fisheye Camera System for Polarisation Detection on UAVs, ECCV 2012, Lecture Notes in Computer Science Volume 7584, pp 431-440, 2012
Carey, N.E., Stuerzl, W., Vukanovic, S., Pfeiffer, K., Elbrechter, C. An insect-inspired biomimetic polarisation sensorand sky compass, Tenth International Congress of Neuroethology, University of Maryland 2012
Carey, N.E., Stuerzl, W. An Insect-Inspired Omnidirectional Vision System including UV-Sensitivity and PolarisationComputer Vision Workshops (ICCV Workshops), 2011 IEEE International Conference on. IEEE
Carey, N.E., Stuerzl, W., Egelhaaf, M., Moeller, R.Navigating using the polarised sky compass - a biomimetic approach,Workshop on Insect Homing: Mechanisms and Models, ZiF, Bielefeld 2011